Features
Back to Contents

The Bit everybody remembers about a comic is the strips. Very few hold fond memories of some of the other features that ran. So let us jog your memory with the best bits you'll ever forget!!

Jokes

When Buster launched in May 1960, the first of the features pages was a jokes page. Readers could send in their favourite joke, and Artist Nadal would do some illustrations with them. Jokes proved to be quite a popular format throughout the run. From October 1960, there was the front page joke (an extension to the Make Buster Laugh already running). Whilst the front page joke was axed in February 1961, Make Buster Laugh continued through to 1968.

It was to then go quiet on the funny front until Cor!! merged with Buster in June 1974. Gus's Gags made the transition from Cor!! to Buster and within weeks, Buster readers were once again sending in their favourite joke. Alf Saporito was now holding the pen for the jokes page.

Gus's Gags was dropped at the end of 1979 (made up in some way by the pullout Joke Book released in 1980 - see Supplements for more on this). The next joke page to feature inside the comic would come with the merger of Jackpot in 1982. Buster's Jackpot Jokes ran until September 1987, this time Jack Clayton doing the artwork. Once again the jokes would die down, until Chalky gave us his joke pad in October 1988. It was placed at the bottom of Chalky's page and a half strip until the end of 1991 where jokes moved over to the letters page.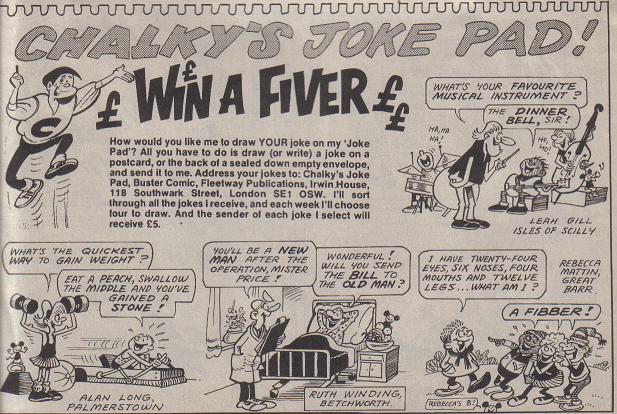 Illustrations

There were three illustrated features over the years. The first came in June 1960 called By a Hair's Breadth. It only ran until October 1960, when it was replaced with Then & Now until July 1961. Unfortunately I have no further details about either of these features so if you can help please e-mail webmaster@bustercomic.co.uk The final illustrated feature was Imagine which launched in September 1991 and ran through to June 1996. Terry Brave (with some help from the readers) would take a cliche (like Chatterbox) and turn it into a picture (a box talking!)

Clubs

Buster also provided various clubs for you to join. In June 1960 he launched The Birthday Club which was open until March 1971. Fleetway comics Lion, Valiant and Battle Picture Weekly teamed up with Buster to present the Airfix Modllers Club, which launched in May 1974 and ran through until March 1981. This club was a separate section to the comic compiled by Kelvin Gosnell.

Others

There were a handful of other features over the years including Buster's Puzzles Page from October 1960 to February 1961 and Ricky Kicktails Skateboard Page through December 1977.

Letters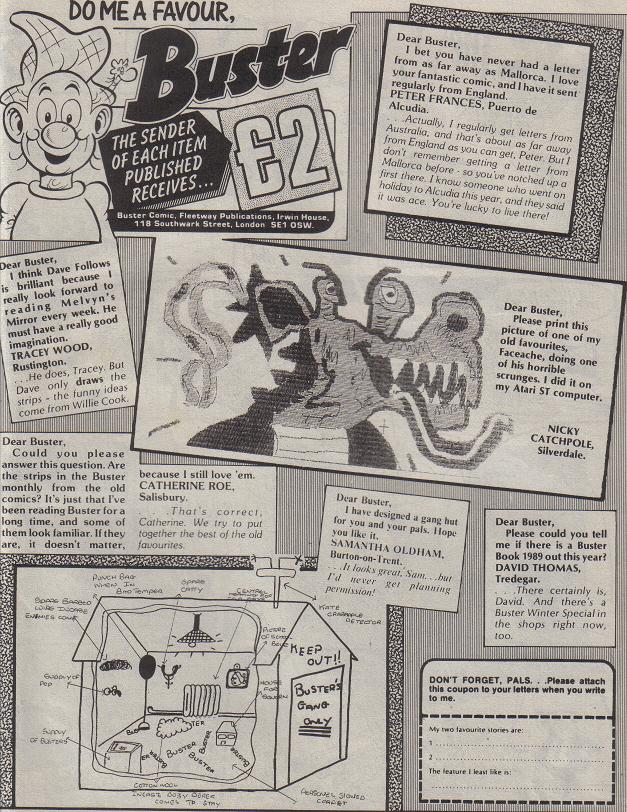 The main feature was the letters page which didn't really launch until February 1982. Back then it was called Do Me A Favour Buster. You could win £2 if your letter was published. In January 1989 the address for Do Me a Favour Buster was moved from Irwin House in Southark Street, London to Chelmsford in Essex, where it would remain for the next 11 years.

In April 1990 Do Me a Favour Buster was scrapped in favour of bringing everything together on colour pages for the traditional two page Dear Buster, Buster's Pinboard and Brainbuster's that ran until January 1997.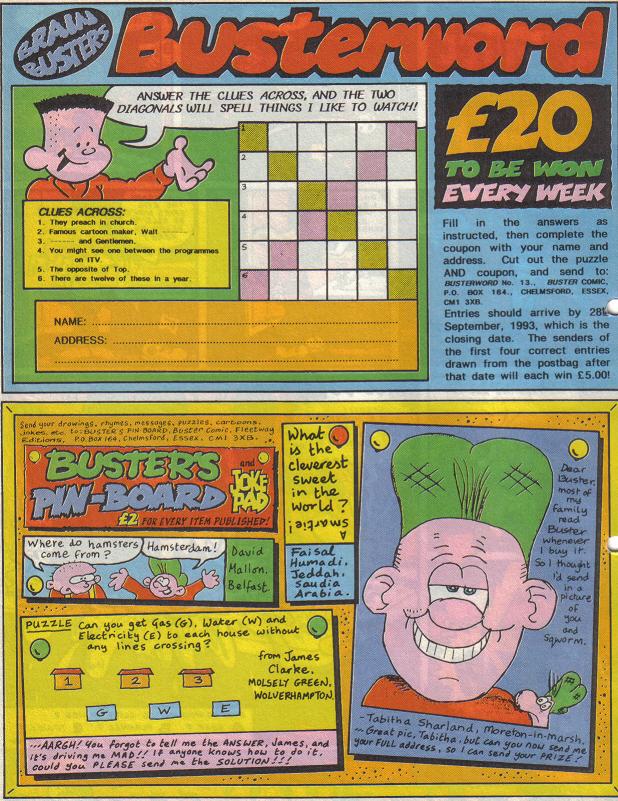 Brianbuster's gave four people the chance to win £5 for completing a simple puzzle, such as a Crossword, Maze or Wordsearch. The pinboard was for pictures and jokes, plus other puzzles or strips sent in by readers. Dear Buster remained the essential answer my questions and also encouraged readers to have Pen Pals. From time to time during the 90s, the Pen Pal section was given a separate corner of the comic due to so many people wanting a buddy. The prize of a letter in print was still £2 for every item published, although pen pal corner didn't win you a prize.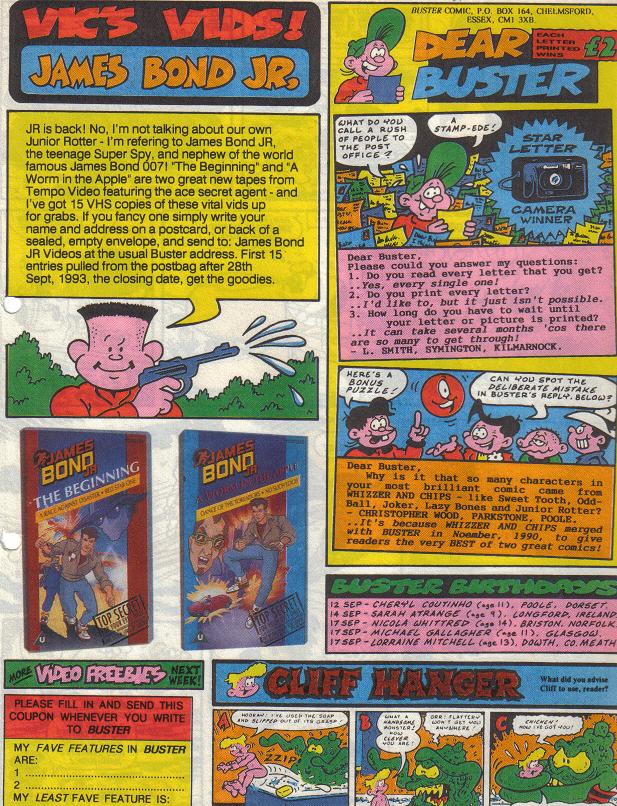 The all new letters page also gave you Buster Birthdays - a chance for every reader to see their name in print, and continued the tradition that began in Do Me A Favour, of voting for your fave and least fave strips. Plus of course it included that all important solution to Cliff Hanger's dilemma.

Another ad hoc section to Dear Buster was Vic's Vids, giving you the chance to win one of the latest video's in a competition (normally question and answer).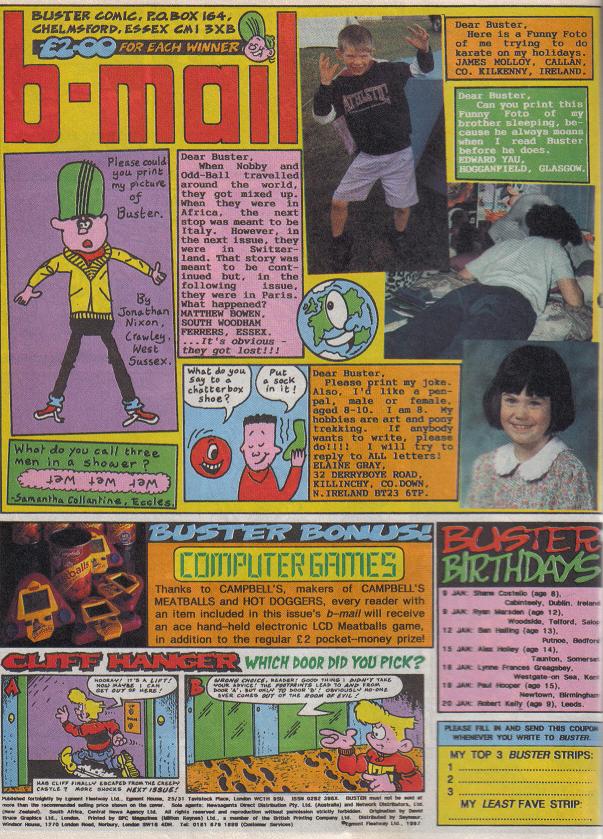 In January 1997 the letters page changed to a one page B-Mail with no more puzzles, or competitions. It did still invite your questions and jokes and helped Pen Pals get together though, but the prize for getting a letter published remained at £2. Buster Birthdays was also continued as did the all important Cliff Hanger result!

Vic's Vids made just a couple of appearances throughtout the entire run, the competitions were refined to separate pages within the comic. B-Mail closed in August 1999, with a years worth of Buster Birthdays for everyone who sent in their details.

The Buster Bonus



When Buster made it into an official letters page, he was kind enough to offer little extras, aka The Buster Bonus. One of the first Buster Bonuses was a Post It Note Cube, several different coloured Post It Notes in one cube. These were sporadic in their appearance meaning that not everyone would get a Buster Bonus. There were some other brief replacements, like the Bad Eggz Bunch (freaky creatures in goopy slime stored inside an egg) in May 1993, but these were few and far between. For another brief period in 1993 there would be a Star Letter prize of a camera, as well as their £2.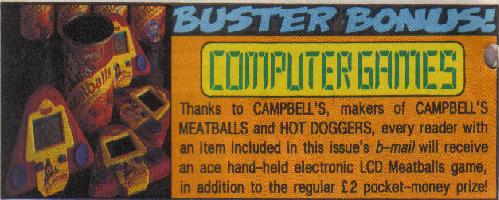 In the mid 1990s, Buster teamed up with Campbells in a union that would last until the end. The first Campbells Buster Bonus was a wallet, but this soon changed to a Camera. In February 1996, this changed again to the Campbells Handheld computer game which was given away until B-Mail closed.

Back to Contents